Throughout my career in jewelry and baseball I have been asked to create awards as well the MLBPAA Official Ring for their organization. Below you will see the design for the ring as well as some of the awards that I have designed like the Heart & Hustle Award, Alumni Lifetime Achievement Award, Brooks Robinson Player of the Year Award, the Roger Maris Award and the Legends Game MVP award all for the MLB Players Alumni Association. Both Bailey Banks & Biddle and Tiffany & Co created these awards over the past 20 years however the rings were only available through Bailey Banks & Biddle.
The first Alumni Ring made was for Brooks Robinson. Over the years players like Bob Feller, Wade Boggs, Fergie Jenkins and Glenn Davis all received rings as well as more than 100 others.
Carlos Pena winner of the Roger Maris award in 2003. This award was presented for greatness on and off of the baseball field. Other winners included Jim Thome, Derek Jeter and Rocco Baldelli.
Dave Winfield and his MLBPAA Lifetime Achievement Award presented at the Alumni's Annual NYC Dinner in 2009.
Shane Reynolds receiving his Legends Game MVP award in Orlando at the Astros Spring Training Complex.
The MLB Players Alumni official ring. This ring was manufactured by Bailey Banks & Biddle and over 100 were sold through the Alumni Association in the early 2000's.
Jamie Moyer receiving his Player of the Year Award at the MLB Players Alumni Dinner in NYC. Bob Boone and Steve Rogers are also pictured in this 2009 presentation.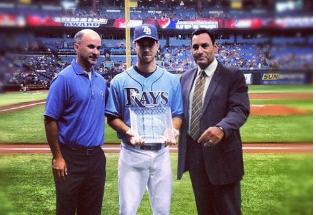 My good friends Chris Torgusen and Orestes Destrade presenting Ben Zobrist with his Heart & Hustle award created by Tiffany & Co.
Doug Jennings receiving his Legend's Game MVP award in Boca Raton at the FAU Baseball Stadium. This Legend's Game was created to benefit the FFCDC in Boca Raton in 2012.